Culture

•

Published on the 16th July 2021
5G in Switzerland, everything you need to know about this new network
From 1976 to 2012 we saw the evolution of 1G to 4G, today we are talking about a new generation of mobile network: 5G. Indeed, following a significant increase in the number of connected devices, the 4G network is beginning to reach its limits. So let's take a look at how it works, the rollout in Switzerland and everything you need to know about 5G!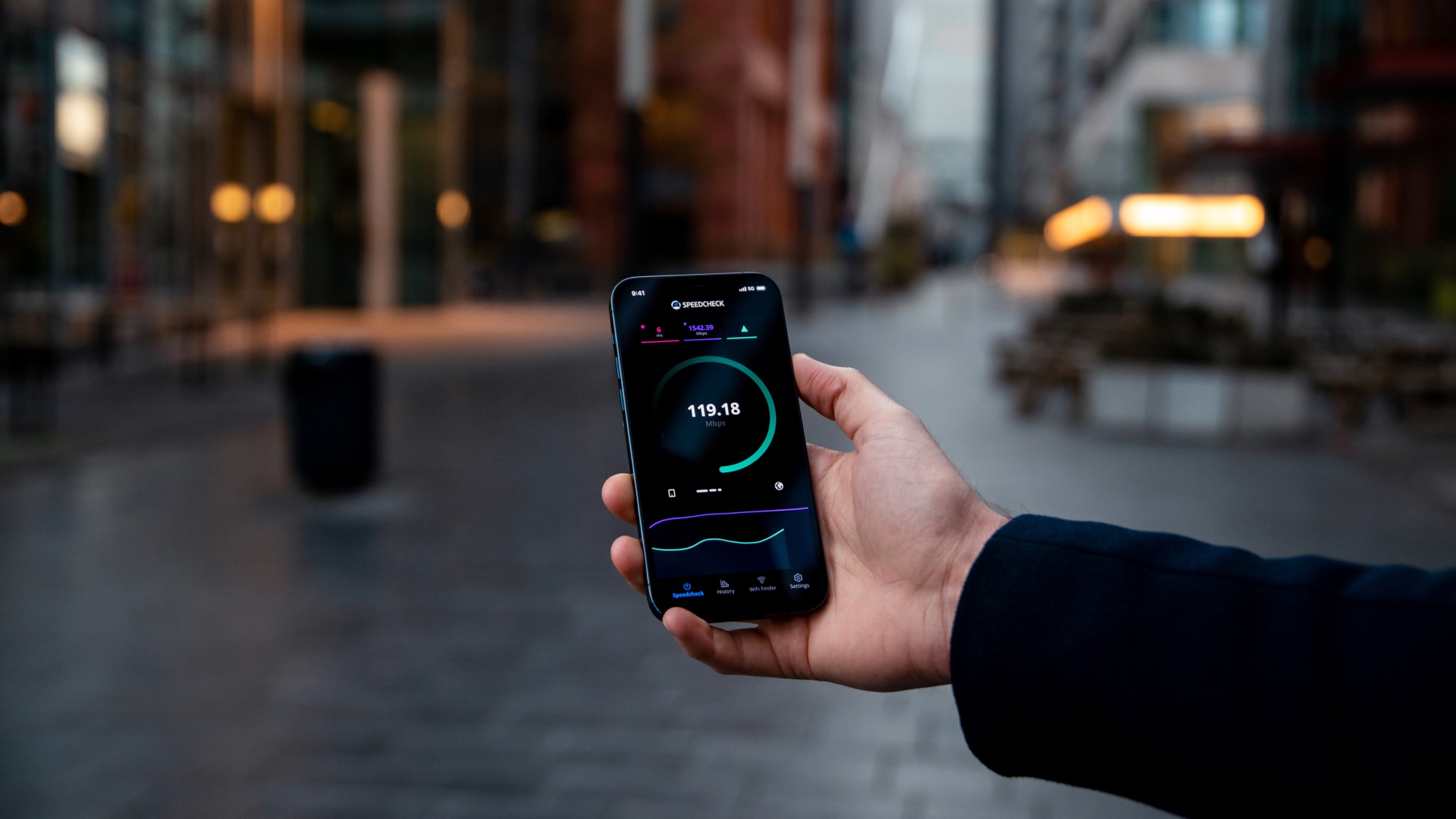 The main improvements between 4G and 5G
The number of connected devices we use on a daily basis is constantly increasing and we need faster and better connections to the Internet. To cope with these evolutions in consumption, here are three main advantages that 5G offers.
More connections: the number of connected devices is growing year after year and the 4G network will soon reach saturation. This can already be a problem in high-density areas, such as train stations and stadiums. With 5G, we are talking about 1 million connected devices per square kilometer, which is a much higher connection density than with 4G.
Higher speed: 5G will allow much faster Internet connection. For a user, we are talking about 100Mb/s to 1Gb/s depending on the number of users on the antenna, against 30Mb/s in practice currently with 4G.
A lower latency: with 4G, the latency is around 30 ms, with 5G, it will be 1 ms. Constant and almost immediate exchanges which will certainly lead to the emergence of new uses.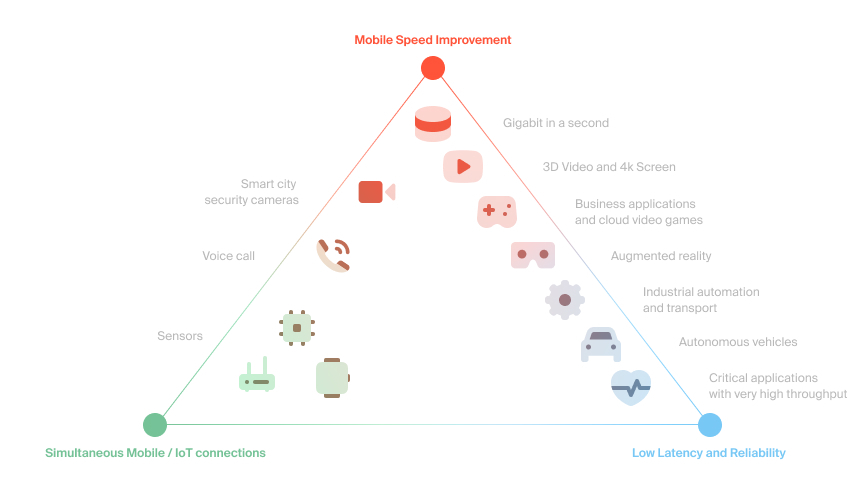 How does 5G work?
4G uses frequency bands of 700, 800, 900 MHz and 1.8, 2.1, 2.6 GHz. As for 5G, it will use 3 main network bands for its operation:
700MHz : frequency that propagates over a longer distance, which is practical in the countryside, and that penetrates walls well, perfect for the city!
3.5 GHz : the new main frequency bands of 5G with which speed will be significantly improved.
26 GHz : this frequency is not allocated at the moment and will be in Switzerland in 2022. We are talking about millimeter waves and the theoretical speed of 5G will be possible only when these bands are used, which is not expected before 2023.
5G network rollout
A cell (usually on a cell tower) is composed of several antennas. Each antenna transmits in a direction wide enough that together they cover the area. Unlike 4G antennas that send a beam in the wide direction they cover, 5G antennas, called Massive MIMO (Massive Multiple-Input Multiple-Output; composed of many mini-antennas that allow many more simultaneous communications), direct the signal as needed, a technique called beamforming. These antennas are optimized to consume less energy with in particular the standby management of their unused mini-antennas. With beamforming it is not necessary to constantly send all data in a wide beam, but only the requested part (data slicing) to the respective user.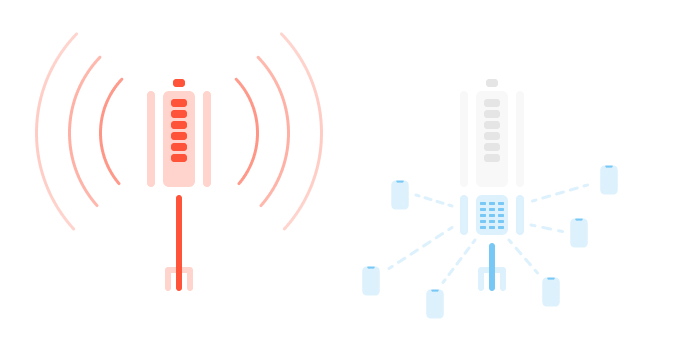 5G network architecture
The 5G network architecture is based on virtualization concepts, which will allow to easily adapt to the needs of the network, there are notably 2 strong concepts:
NFV (Network Function Virtualization) it offers virtualization of network functions such as routing, firewalls, load balancing, i.e. these functions are no longer based on specific hardware, but are executed on standard servers.
SDN (Software Design Network) A network architecture that centralizes the control and orchestration of the network, and virtualizes the physical resources in order to abstract as much as possible from the real constraints and manage its network virtually according to the needs.
With this foundation, network slicing is applied to the 5G network and three virtual slices are designed to operate in parallel:
eMMb (enhanced Mobile Broad Band), for telephony and traditional uses,
mMTC (massive Machine Time Communication) for IoT,
uRLLC (ultra Reliable Low Latency Communication) for new uses such as medical engineering and autonomous cars.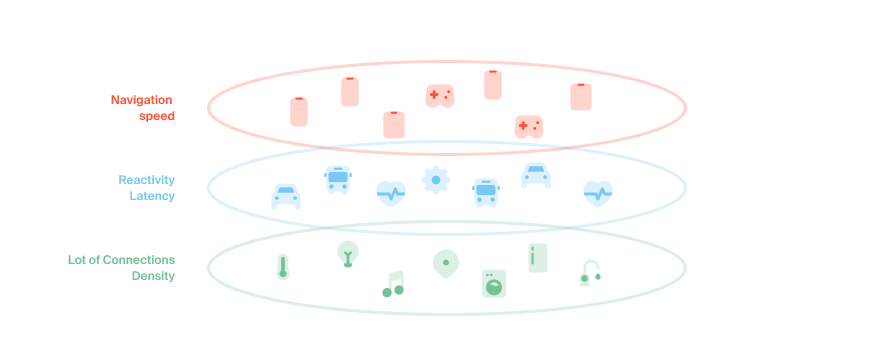 5G: what are the health risks?
The risks are globally the same as with 4G because 5G is based on waves of the same order of magnitude. No problems have been identified so far and many studies are still ongoing. It is interesting to see that the beamforming of the 5G "smart" antennas reduce electrosmog (exposure to the surrounding waves). When millimeter waves will be used it will not only be necessary to base the tests on the specific absorption rate (W/kg), but also on the power density (W/m2) because the waves don't penetrate the skin surface well.
The main rumors
Many rumors are circulating, all of which are obviously false, here are some examples:
5G spreads the Coronavirus
Governments took advantage of the pandemic to generalize 5G without anyone's knowledge
5G is a pretext to force us to buy a new phone
5G is harmful to insects and animals
5G leads to DNA damage
Coronavirus vaccine contains chips so Bill Gates can control us remotely via 5G
According to some, the Internet neutrality would be threatened by the 5G and more precisely by the network slicing. Questions arise: how to get access to a certain slice? What will be the criteria that will determine on which slice a company is positioned and how to have the best network quality according to the needs?
And yet, in the current Internet neutrality, there are already managed services, such as telephone and television for example. Even if the network is overloaded, these services are still available.
Rollout of 5G in Switzerland
Licenses for Switzerland were received in February 2019 for all 3 operators. However The Ordinance on Protection against Non-Ionizing Radiation (ONIR), which is largely more stringent than for the European Union, has delayed the deployment of 5G on Swiss territory. At the beginning of 2021, the project has accelerated, 5G is more powerful, but for a specific and localized need, so that the average value around the antennas are lower.
The deployment is now in progress and already more than 5000 antennas are installed and 5G is available for more than 1.1 million Swiss.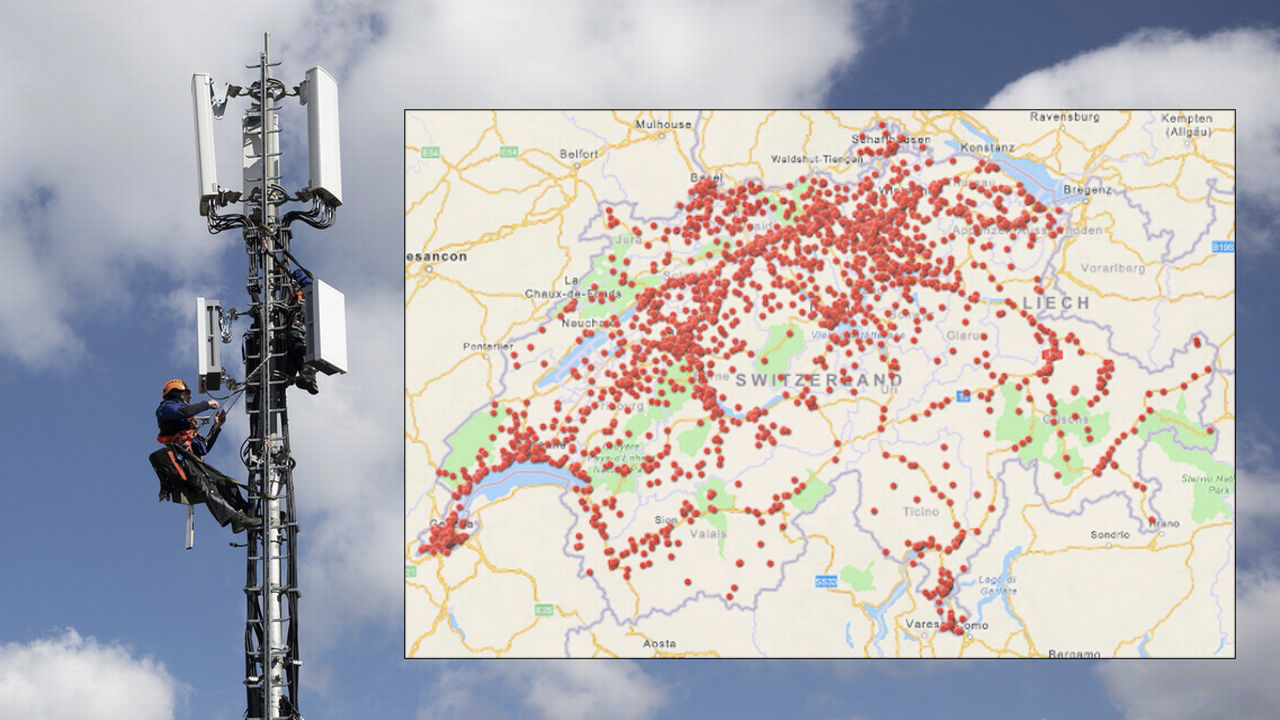 In the end, what we must remember about 5G is that this new network meets the performance requirements that have largely evolved in recent years. The antennas have evolved with beamforming and consume less energy. The health risks as well as the numerous rumors linked to 5G have not been proven to date. The deployment on the Swiss territory has already started and 5G is already available in Switzerland.