Design

•

Published on the 9th March 2022
Design Thinking: the different stages, from idea to creation
In this article, you will learn the Design Thinking steps needed to create your digital project in order to reach your goals and satisfy your end users.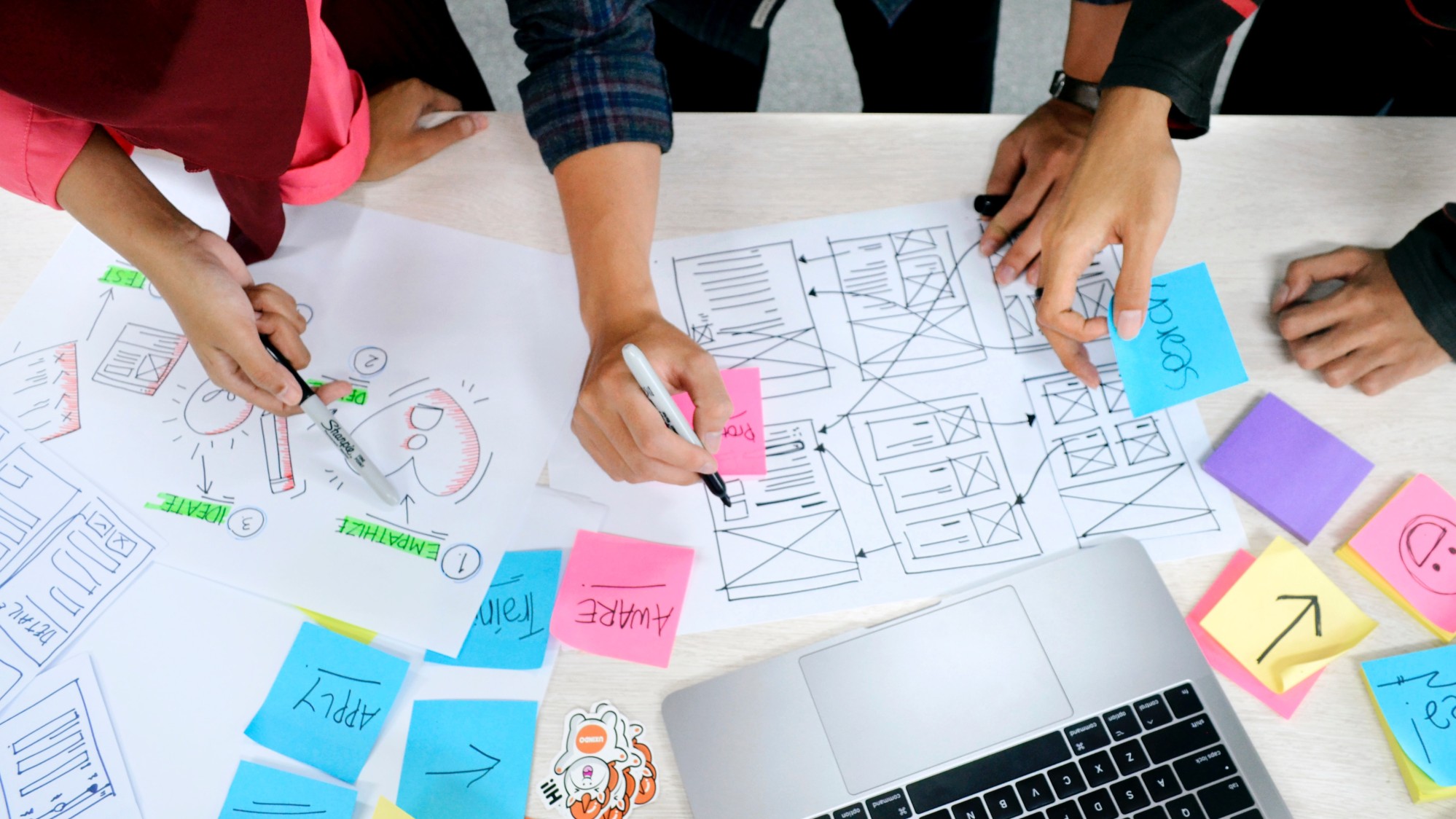 In short, what is Design Thinking?
Design Thinking is an innovative collaborative design and co-creation methodology that allows you to generate ideas quickly and transform them into concrete projects, to deliver tangible prototypes. It is a method dedicated to end user centered product or service innovation. Whether it's a new product or an existing project to be improved, design thinking adapts to all situations.
A little history
Design Thinking was developed by Rold Faste, director of the product design department at Stanford University in California in the 1980s. Thought in 7 steps and then reworked in 5 steps by Jeremy Gutsche, this redesign has imposed itself in all spheres of digital and UX product design.
Principles of Design Thinking
Design Thinking allows:
to identify social and economic problems,
to respond to specific needs,
to generate ideas to find the right solution,
to prototype the solution, to test it and to make iterations in order to improve it until the final result is a mobile app, a website or a product.
Collective intelligence at the heart of design thinking
Design Thinking favors collective intelligence by making professionals with different expertise to work together, such as designers, developers, marketing experts, technicians, project managers, in order to efficiently and quickly achieve the completion of a product or service.
This method adapts perfectly to a variety of personalities, both introverts and extroverts. The facilitator helps the group to understand their common goals and accompanies them throughout the workshops.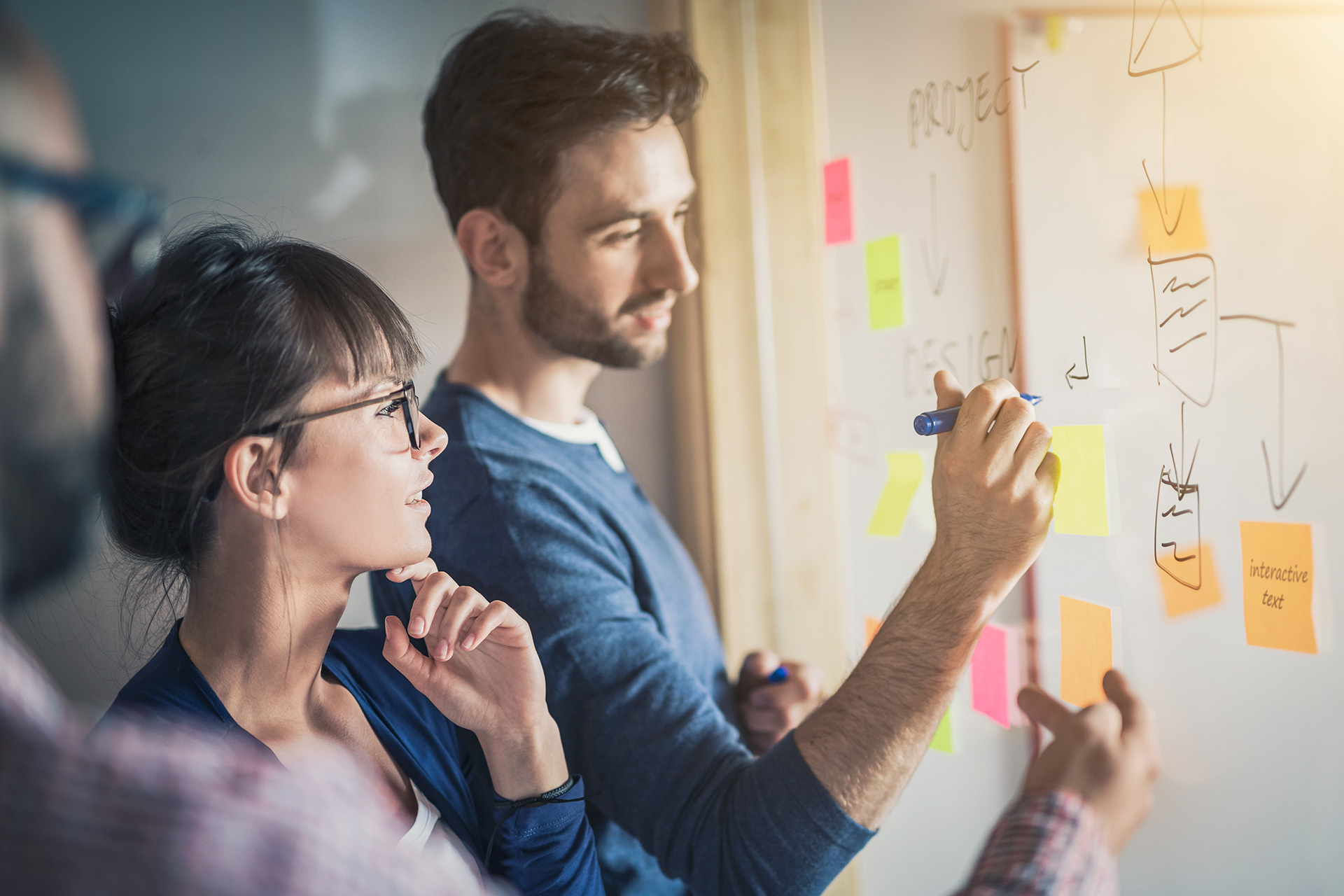 Why use Design Thinking to create your digital product?
Design Thinking has many advantages:
It allows you to be creative through co-creation
Innovation is made easier with the help of collective intelligence
It creates important links between the people participating in the workshop
Design thinking makes teams more responsible and values their work
It allows a permanent questioning and authorizes mistakes
Iteration allows a perpetual evolution of the product or service
Design thinking is useful to find ideas and solutions quickly
It puts end users at the center of the innovation process
Okay, let's start a Design Thinking workshop together!
#0 To get off to a good start, it is essential to prepare beforehand
Before participating in a design thinking workshop, it is necessary to prepare yourself. Your UX specialist will need some basic information in order to know you better and understand who you are and your expectations, for example:
Who you are, what you do and what are your values?
What are your wishes for your future product, what it could do, how it could work?
Who is your future product aimed at?
On what type of support will it work? (mobile app: iOS, Android, web app, etc.)
Do you know the problems encountered by your users if you already have an existing product and want to improve it?
#1 Empathize with your users (Empathize)
This first step aims to develop empathy towards your end users in order to know their frustrations and understand their needs. They are the ones who will use your product and participate in its success or failure. It is about understanding who they are, their situation, their motivations and the concerns they have in their daily tasks.
The profiles of your users are collected during individual or group interviews or during on-site observation, for example in your company.
Face-to-face or online interviews allow us to establish what your users do, think, feel and say. Observation, called "shadowing" in the UX jargon, allows you to observe the environment of your users and their interaction with the current product or service. This needs gathering phase, documented, filmed or recorded, in agreement with the stakeholders, will allow the creation of personas and/or an empathy map.
#2 Identify the problems encountered by your users (Define)
Now that you know the profiles of your users and how they feel, you will identify the major problems, or "pain points", encountered by your users during the workshop.
The team identifies the problems encountered on Post-its. This process is done by funneling the issues into a maximum number of questions such as: "How could we meet this expectation?", "What could improve our products?", etc.
#3 Generate ideas to find the right solution (Ideate)
After having identified the problems, the purpose of this 3rd step is to find solutions to meet your users' needs. This phase consists of generating different ideas around the problem and the goal to be reached.
Ideation can be done alone and then in groups. During the workshop led by the facilitator, each participant writes down his/her ideas on Post-its. Then, the Post-its are arranged under the themes defined by the group so that each participant can vote for the 3 ideas he or she considers relevant. The ones with the most votes will be prototyped for testing.
#4 Prototype the solution to test it (Prototype)
Now that you have generated ideas that could be relevant to your product/service, it is time to transcribe them visually with the prototyping phase. The idea is to experiment with several solutions in order to detect which ones are the most likely to solve your users' problem. Structural sketches called "wireframes" or visual mock-ups, created by a UI/UX designer, can be adjusted, improved, accepted or rejected depending on their relevance.
#5 Test the solution with users (Test)
The prototyped solution, which you can navigate between pages and click on, will then be tested by a panel of users corresponding to the profiles of your end users to find out how they feel about the future product. This also allows you to have a first feedback of your product in order to know if the tested solution meets the initial expectations, if it is viable and if improvements have to be made.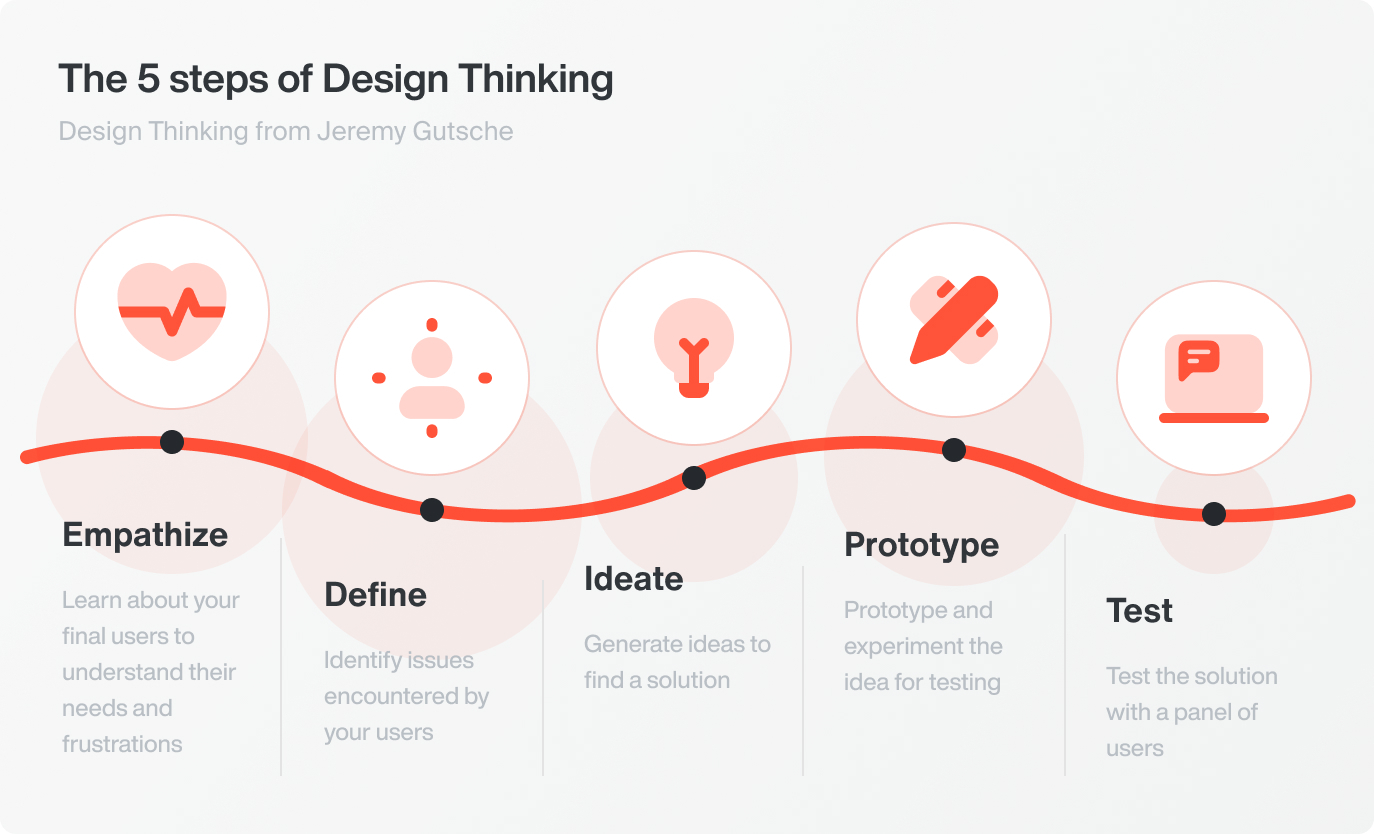 Design Thinking is not set in stone. This 5 or 7 step method, applied by many digital companies, is not linear. It allows your product or service to evolve at any time. It is therefore sometimes necessary to go back to a step to optimize your product to make it relevant. The most important thing in the creation process is to provide a final product that will meet the needs of your users and give them full satisfaction. After all, your end users are the ones who will contribute to the success or failure of your product or service.