Discover the Apple Watch application of Geneva Airport, a new way to travel with the first airport application in Europe. This is the story of a unique project that allowed us to develop an application for the Apple Watch before Apple even launched the product!
Geneva Airport, international and innovative
We have been working alongside the marketing teams of Geneva Airport for several years. As an international airport, Geneva Airport welcomes more than 18 million passengers a year from all over the world, but mainly leisure travelers from Europe. Geneva Airport is notably the European HUB for the Easyjet airline.
Back to the past
Back in January 2015, it's 6:57 am, the Airbus A320 bound for London takes off from runway 22 of Geneva International Airport. On board, vacationers, commuters and two members of our team, invited by Apple in their London HQ. The goal of the day was to get a sneak preview of the most coveted object of all: the Apple Watch. We were able to work directly with Apple's software developers to optimize our GVApp application on this new connected object, a few months before its release.
Designing an interface for an object that doesn't exist
When we embarked on this adventure, we were faced with a major challenge: designing an interface for an object we had never seen and for which we had no known usage habits.
In more standard projects, we focus on functionality and content, having been used to developing and designing interfaces and apps for smartphones for several years. Except that here, it was impossible to use a personal experience, a story, a life experience, nothing, everything had to be invented.
What relevant information can we display on this small screen? How to make an intelligent link between the existing mobile application and the watch so that it is not just a copy? We wanted the experience of the watch to bring real added value to the use of this new pairing in the airport.
Adhesive paper, our best friend
How to simulate and validate our choices and ideas when no one, except a small team in Cupertino, could see the watch in real life. You have to imagine, members of our team, with iPhones stuck on each arm with adhesive paper, walking around imagining real situations to test the relevance of our choices.
Pulling out arm hairs (and hair for that matter ?) was our daily life during several weeks, in order to produce a really innovative application, both by its visual aspect and by the new features it integrated.
Geneva-London - London-Geneva in 12 hours
Once our application was "finished", we went to Apple in London to spend a whole day with the teams who developed watchOS, to validate our choices by testing our product on a real watch.
Locked personal cell phones with identification numbers, deactivated camera, Apple's cult of secrecy is well established. We are now immersed for the next few hours in a room where all the windows are covered with paper, so that no one but us can see what is going on.
After a full day of discussion and work with Apple and watchOS UX experts, we are ready for the release of the application.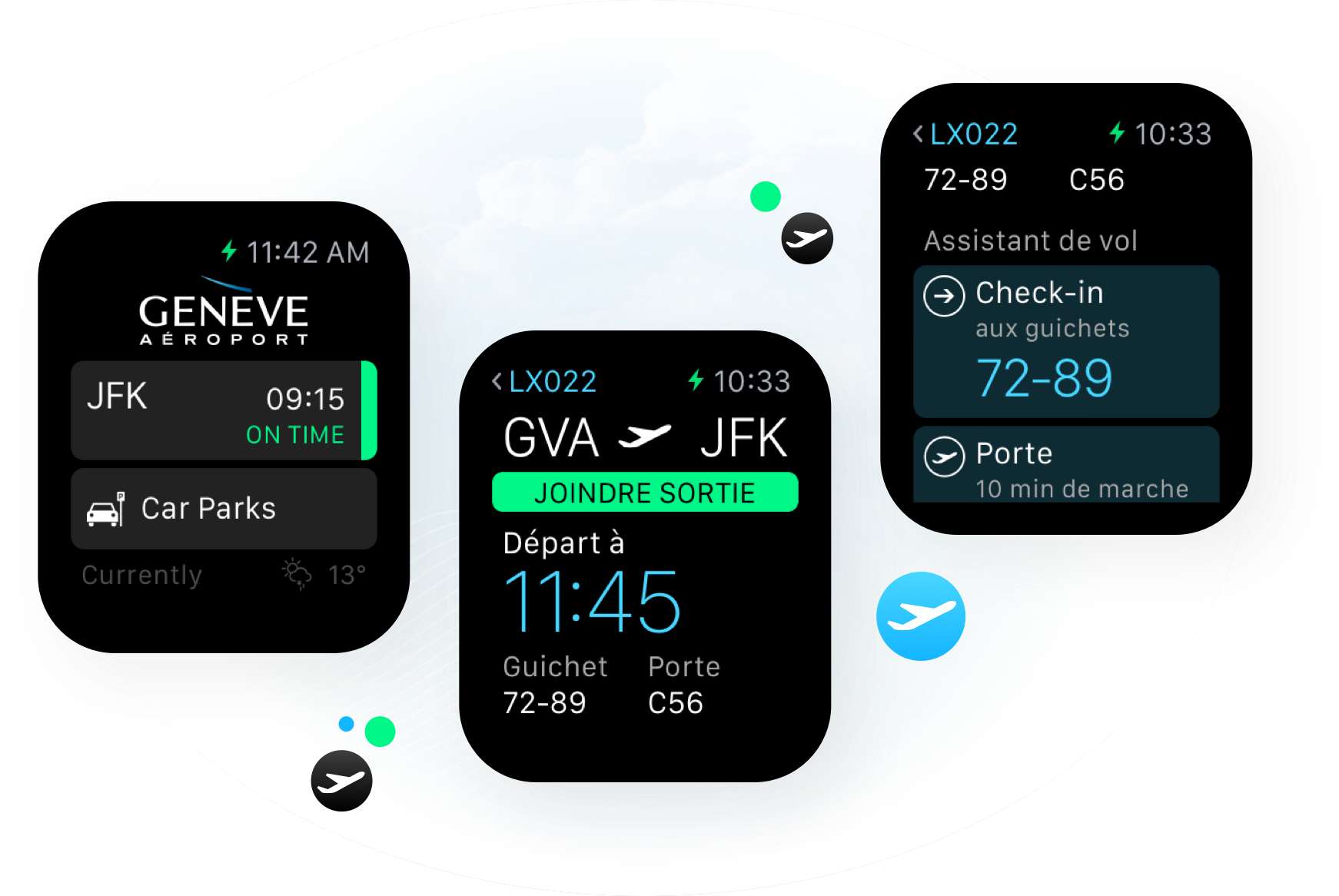 June 26, 2015: release of the Apple Watch and GVApp!
Apple releases the Apple Watch in Europe, we are proud to be the first Swiss company to offer an app available on the connected watch and touched that Apple cites our work as an example in its global press release on June 4.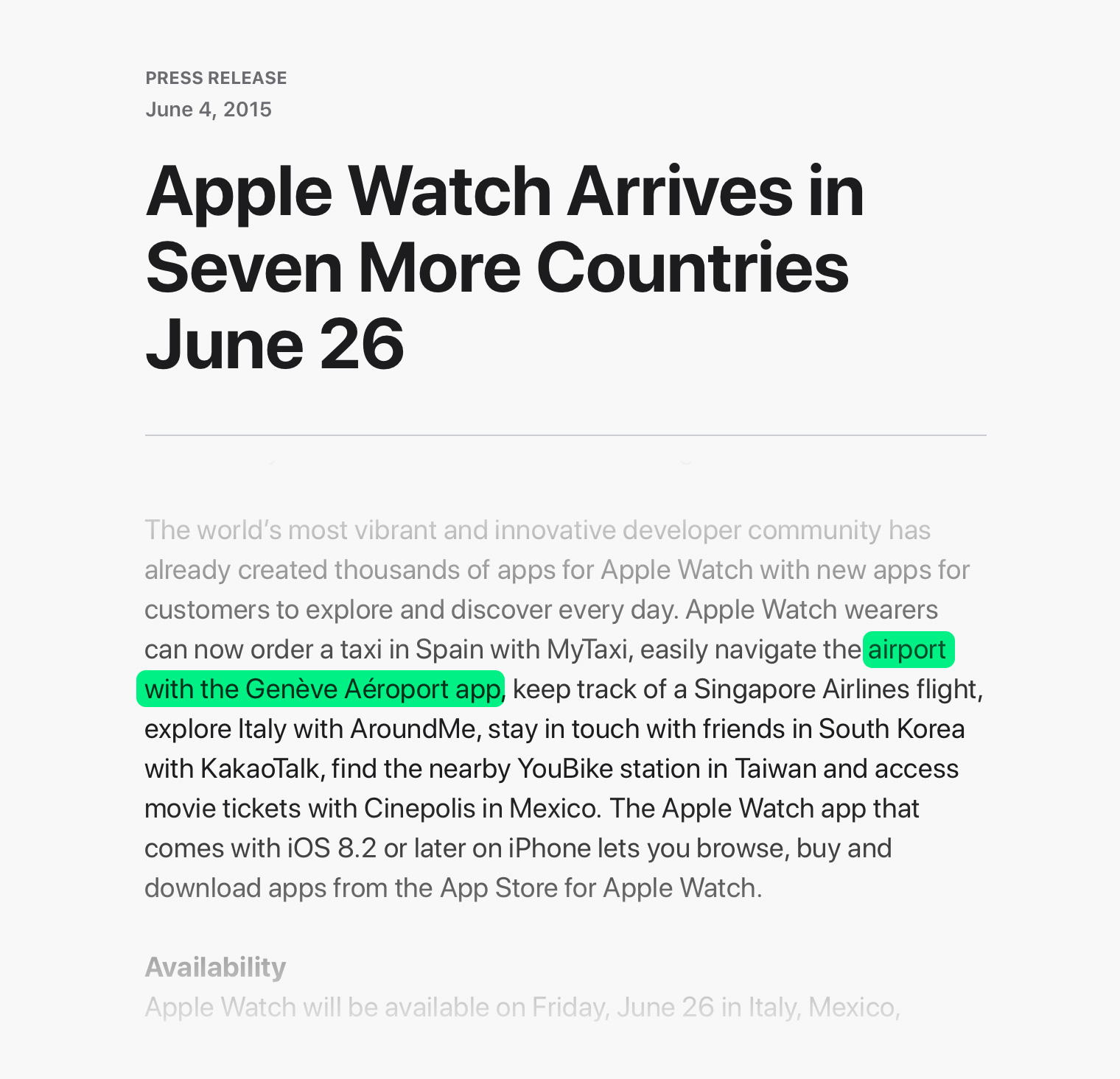 According to users, the app is relevant, pretty, but above all very, very practical. No need to take out your phone to check the status of your flight or to find out about status changes, everything is available directly on your wrist.
During 2015, the app will receive significant media coverage and will win two awards, the Best of the Web in the Mobile and Innovation category and the Best Of Swiss App.