Culture

•

Published on the 24th June 2022
Testing a Logitech ergonomic mouse
Several months ago, my mouse died, well... my computer mouse at home. Not very practical to work remotely in these conditions! So, within a day, I went back to our offices to get the one that hadn't moved an inch for me. However, now that telecommuting isn't so much a part of my life, I found myself with the burden of having to take my mouse with me every day... or use the one on another computer at the expense of not being able to use it on this one. There was only one option, to find a new mouse.
Why did I get an ergonomic mouse?
As a UI/X Designer, working on a computer mainly consists in conceptualizing visuals with a mouse or a graphic tablet. It is therefore after many hours of work with this tool that I started to feel tensions in my forearm and wrist. Finding a mouse that is comfortable to hold is therefore essential to avoid chronic tendonitis in a few years. A lot of articles suggested various solutions, the one to use an ergonomic mouse was the most recurrent. So I followed these recommendations.
It didn't take me long to find what I was looking for, because there are only a few ergonomic mouse with certifications on the Swiss market, so few that we often end up with the same one, the Logitech MX Vertical. So, I ordered it, received it and I started to try it !
My first impressions ...
The first thing that struck me was the appearance of the mouse. It looked like a "shark's fin" or "a shell", I was told, and I think so too!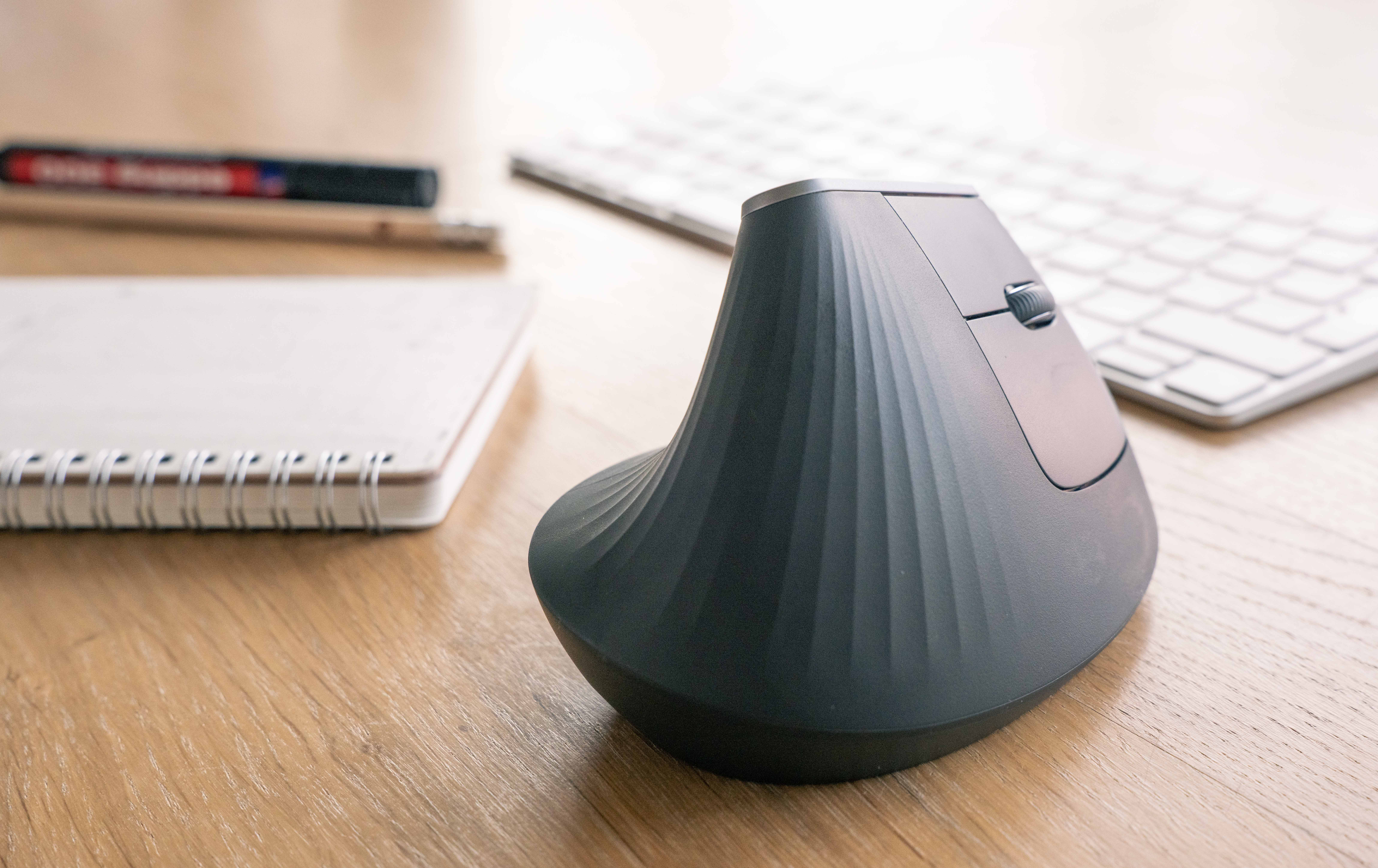 I put my hand on it and the first feelings came. I had the feeling that I was holding an abnormal object in my hand, almost unknown. Yet my hand rested correctly on the entire surface and the fingers were in the right places for the buttons. Moving the cursor on the screen was quite satisfying, almost fun. The feeling of abnormality disappeared quite quickly. However, every time I dropped the mouse, I had to counteract my habit of "flat" mice that made me knock it over several times.
Finally, at the end of the first day, I realized that it was quite easy to hold and that its "strange" appearance is simply natural. Over the next few days, I noticed that I had less effort in my wrist and my forearm was bending less.
... and my last impressions.
As I write these lines, I am using this famous mouse after several weeks of daily use and my second mouse, which is not ergonomic, at home seems strange and even inadequate. Even if it has "magical" qualities, it asked me to review my position by adjusting my chair and my desk in order to have a more straight angle for my elbows.
I also used it in more playful conditions with several styles of video games. The verdict is that, contrary to quieter games where it is ideal, it took a very long time to adapt to first person games requiring great reactivity. The movement of the mouse in space is not quite the same as flat.
Honestly, I recommend you try it! It can relieve tension as well as not doing it, in my case it helped. The increase in computer use at work is no secret, and in my opinion, it is important to have the ability to have enough comfort to avoid any problems even if they don't appear right away. This also applies to the desk, chair and even the height of the screen. Take care of yourself before it's too late!